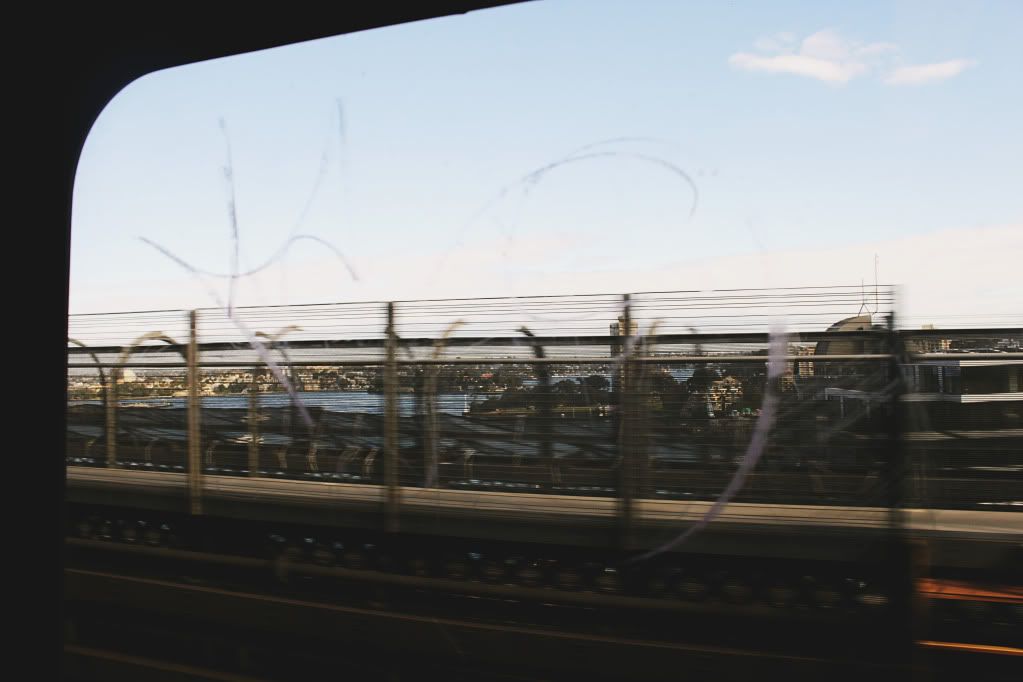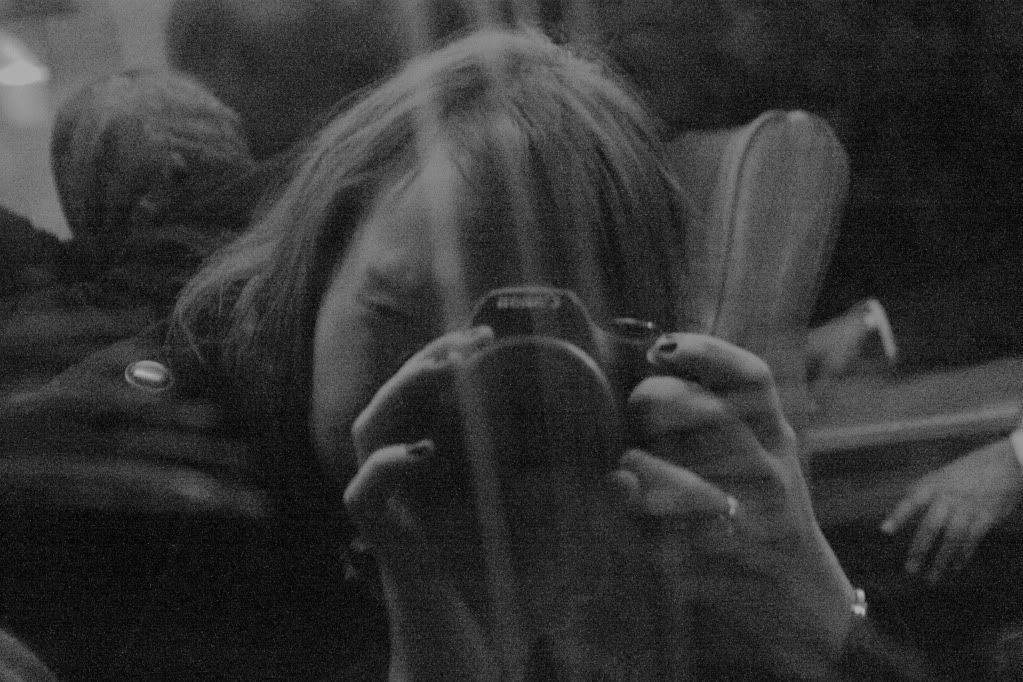 Sometimes, things don't need to be photographed. Sometimes, memories can stay with you forever.
On my second day in Sydney, I didn't spend much time in the city at all. As dawn broke over the horizon, I leaped out of bed, fresh and willing to begin my next adventure. I quickly changed into my clothes and rushed out to the rooftop terrace, letting my eyes consume the golden light reflecting of the tall city buildings.
We caught an early train to the middle of the city, we walked through the streets just before peak hour hit. It was quiet, eerie, like we were in an odd movie until it was suddenly as if the school bell rang and people ran from left, right and centre, walking into businesses, through subway stations and all around us. I admired the marbled buildings, with old columns and decorated floor tiles, interiors worth millions of dollars. The streets were crowded with chaos, people stepping over one another to get to work on time. It was almost as if I was invisible, walking the opposite direction. Not once did someone's eyes meet my own.
We boarded a train at nine o'clock, taking a seat up the top of the train, hoping to admire the views we had been promised by so many. The ride was long. Through the suburbs we paltered. The further we traveled, the more sparse the buildings became before soon enough, there was only shrubs and trees. We crossed a wide river where a small town was located. The tall gum trees aligning the water reflected in the body of mirror below us, creating an illusion that beneath the surface, a whole other world existed. I smiled to myself, knowing that the trip I was expecting, was soon starting. We puffed up hill. It was an odd thought, traveling through the mountains, going almost vertical up and up. I imagined the trains running through the alps in Europe, what it must be like to travel through those mountains in winter, dusted in white snow, looking frozen in time. We passed little villages as we creeped up. They were small at first, barely nothing but the train station and some houses, but as the views grew more spectacular, the towns became bigger. Around every corner a new valley or lake was there to greet us with it's beauty, catching my breath every time. I'd spot old houses, hiding in the tress, eyes painted on garage doors, staring at me, and new housing developments with identical houses aligned in rows, ruining the beauty of it all. Between Katoomba and out stop, we passed a wide, spanning valley, concealed by cliff edges and trees. We were on the opposite side of the train, and through the windows on the other side, all we could see was a land far below and a view more spectacular than what I could ever imagine. I went to grab my camera after pulling myself away from the sight, but when I looked back up, the moment had passed.
We pulled into a quaint little station, on the bend of the tracks two and a half hours later from arriving to the city. The beautiful train trip was equivalent for me traveling from Melbourne to the north east, but it didn't feel nearly as long. The cold air shocked my skin as we stepped out of the warm train. We were high up, above the clouds possibly. After literally pinching myself that I was in Mount Victoria, and the events to come that day, we trekked up the hill to a quaint old hotel for lunch. The fireplaces were roaring with light, a very welcome sight to our shaking bodies. We took a seat on antique leather studded couches and were given the table number of six and we admired the old furnishings of the place. We reminisced of friend's hotels, renovations and that one time I went to a birthday party at a pub owned by the birthday girl's dad. We played hide and seek through the old rickety building that was dark, and dusty, like a haunted house. Our tummies rumbled for food and we ate our meals quickly. Laughing at the tough men sitting outside in the could and our waiter who looked far too much like my boyfriend from behind.
While my brother and mother lagged behind me as we walked up and over mini hills on our trek to
their
house, I couldn't help by walk fast, taking all the sights, smells and thoughts in faster than my pace. The smell of burning fireplaces comforted me, reminding me of Paul's house, home. The spitting rain, felt like snowflakes on my skin, or perhaps I was wishing for snow a bit too much, knowing it wasn't cold enough yet. The wild, untamed nature of the place whisked me up and drove my imagination to extremes. Every where I faced, I could imagine taking photos of people there, or sitting there, or walking along there every day. I could imagine myself there, a scary but comforting thought.
We reached our destination. The uneven, wild steps leading up to the front door were the most nervous steps in my life. Thoughts were rushing through my head faster than any moment prior. I was nervous, not knowing entirely what to expect, or how I was going to react. I promised myself I wasn't going to act like a little girl in love, all giggly and gaga like how I usually act whenever I meet someone who's made the tiniest bit of an impact on my life. I knocked on the door one to many times, my body shaking from both the cold and my nerves. A sweet smiling girl answered the door, what a surreal moment it was, seeing the face I'd gotten to know through idyllic pictures and words that I'd consumed over the years. After saying goodbye to my mother, I stepped inside to the pictures and the stories. I choked on my words at first, nothing could come out right. After my bag which was weighing me down was on the floor and I felt the warmth of the fire on my skin, I started to sink into the place. I felt calm, at peace, even though someone who I had wished about meeting was standing less than three feet away. Our lesson soon began, I felt embarrassed and silly whenever I didn't know something and had to admit it. I've never been good at that. But through my weaknesses I became stronger. I knew it was better to admit to my flaws in order to make them stronger. I felt like a little door opened while I was learning, a light went on. I wanted to learn more, I had forgotten what it was like to learn something worth knowing, to learn something that I would put into practice, rather than anything I seem to learn at school.
While we talked and shared thoughts and techniques, little Alba cooed in the background, bouncing up and down, looking more alive in her jumping jackaroo than ever before. Her sweet face was smiling and giggling, distracting me with her little glow. Too soon, the lesson was over. I nibbled on banana bread, possibly the best food I ate during my adventures. We talked about all the questions under the sun I had (and I still have more) and about ourselves, where we grew up. We had more in common than I realised. I'd like to think a little connection had sparked but maybe it was just my mind getting ahead of itself. Alba smiled at me, wide-eyed and curious and I knew I could never forget that face. During the time I spent there, I left my camera behind. It stayed in my bag, forgotten, unimportant during the moments that I thought I would take many photos of. My normally scattered mind, was held in one place, with only the thoughts of the situation floating around. I felt at peace, a feeling I thought I had forgotten, a feeling I hadn't felt for a while. I could have been quiet there, in a meditative state.
Too soon was it time to leave. I got a lift back to the station where my mother and brother were waiting for me. Some more of the banana bread was packed tightly in my bag, safe for the trip home. I hugged Nirrimi good bye, thanking her endlessly to learn off her and Matt and gave a sweet smile to Alba before I left the house behind and stepped back into the cold, reality. I nibbled on my piece of banana bread on the ride home, and shared the other pieces between my brother and I, keeping some for the morning. I fell asleep to mellow music playing through my headphones and woke up somewhere in the city feeling dazed as if the day had been a dream. My thoughts raced through my mind again, worried about people stealing things from my backpack, thinking about what I was going to buy for dinner, thinking about what we were going to do tomorrow, thinking about why I didn't take photos of my time with Nirrimi, Matt and Alba. It was then I realised that perhaps some moments are better left in time. Sometimes you just know when a moment, no matter how insignificant, will remain with you for a long and satisfying time and sometimes, you know taking a photo will ruin that moment. It won't ever be the same. As I get older, my memory of this day will become more tainted, more twisted, more fiction rather than fact but that's okay. From past experience it will only become more magical.

Thank you, Nirrimi, Matt and Alba.